Sweet Goods & Dairy Social Media Listening
Listening Dates: July 1, 2019 – September 30, 2019
---
Watch Out Soft-Serve, Ice Cream is Getting Harder
I scream, you scream, we all (who are over the age of 21) scream for alcoholic ice cream! Many companies have been hopping on the alcohol-infused ice cream trend, because what better way to mask the taste of alcohol than to pair it with delicious ice cream?
Alcohol-infused ice cream companies such as Hard Scoop are rapidly making their way into grocery store chains. In addition to the standard vanilla and chocolate, these brands are even showcasing seasonal ice cream flavors such as Pumpkin Spice and limited edition holiday flavors such as Chocolate Peppermint Bark and Eggnog! Lactose intolerant? No worries, they've also got a variety of fruity alcohol-infused sorbets. For all those coffee lovers out there, Conker Spirit infuses their "Speakeasy" ice cream with a cold brew coffee liqueur. There's truly something for everyone with these frozen boozy treats.
---
Koo-Koo-Cashew!
Nuts about nuts? You're in good company. Nuts and nut-based substitutes for dairy products are all the rage right now, probably because those crunchy little kernels pack such a nutrient-laden and protein-rich punch despite their relatively small size. However, as health-conscious food companies forage for ever-healthier substitute ingredients, one nut in particular seems often to get overlooked– the mighty cashew. Thanks to the Forager Project, that is no longer true. Their thick, creamy Organic Dairy-free Cashewgurt is a cashew-based, blissfully dairy-free yogurt alternative that boasts 5 sweet flavors – Blueberry, Strawberry, Vanilla, Lemon and Cherry. They offer a plain, unsweetened variation as well.
Forager also recently came up with Organic Double Cream Cashewgurt, which blends both cashewmilk and coconut cream into a delicious 4 oz container of lactose-free deliciousness. With two great flavors to choose from – Unsweetened Plain and Vanilla – we're pretty sure this old chestnut won't crack any time soon!
---
Donut Forget About Me!
Who says summer birthdays can't rock? Krispy Kreme turned 82 in July and decided to help its customers celebrate with an extra (extra, extra) sweet birthday treat. Topped with sprinkles and strawberry icing, the Original Filled Birthday Batter Donut also concealed a silky, sweet surprise – actual cake batter filling! Krispy Kreme served up the birthday donut for its whole birthday week, in addition to offering its traditional dozen donut birthday BOGO deal.
In a sugar coma yet? Too bad, because at the beginning of August, Krispy Kreme debuted not one, but two new donuts, this time centered around what might be the most popular Halloween candy in the nation – Reese's Peanut Butter Cups. The Reese's Original Filled Peanut Butter Lover's Donut and Reese's Original Filled Chocolate Lover's Donut both start with a decadent glazed chocolate base, but diverge from there. The Peanut Butter Lover's is chock-full of chocolate peanut butter crème and topped with a thick coat of peanut butter icing and just a swirl of chocolate. Meanwhile, the Chocolate Lover's is filled with a peanut butter crème, dipped in fudge chocolate icing and finished with a swirl of peanut butter icing. Subtle, these flavor bombs are not, and we are so much the better for it.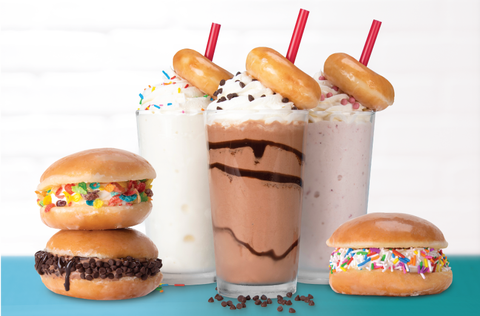 Finally, if three new donut flavors aren't exciting enough, in July Krispy Kreme also overhauled their design at one lucky location in Concord, NC. In addition to the enhanced donut theater, the location debuted three new menu items: custom donuts, milkshakes, and ice cream sandwiches. Most exciting to us are the custom donuts,  which can be built using five flavors of glaze (chocolate, caramel, blueberry, lemon, or original), ten toppings (sprinkles, mini chocolate chips, toffee crunch, toasted coconut, peanuts, graham cracker, Oreo cookies, and more), and five kinds of drizzle (chocolate, strawberry, vanilla, peanut butter, or marshmallow). We're drooling just thinking (no, dreaming) about the flavor combo possibilities!
The ice cream sandwiches and hand-spun milkshakes are created with "donut-infused ice cream," and come in their own variety of unique flavors. The sandwiches come in one of six topping/drizzle combinations, including interesting varieties like Vanilla Chip, Chocolatey Caramel Coconut, and Vanilla Fruity Crunch. The milkshakes (which include a mini-Original Glazed Donut on top!) feature five rich flavors – Salty Caramel, Vanilla Glazed, Double Chocolate, Classic Strawberry, and Oreo Cookies and Kreme.  Everything is coming up Krispy Kreme and we are loving it!
---
Leave the Cows Out of It! Newest Ways to Enjoy Ice Cream
You've probably seen oat milk cropping up in trendy coffee shops and markets, but the newest take on this creamy dairy milk alternative is oat milk ice cream. So Delicious Dairy Free was the first to launch a line of frozen oat milk desserts in grocery stores nationwide, with three mouth-watering flavors: peanut butter & raspberry, oatmeal cookie, and caramel apple crumble. Swedish oat milk brand Oatly has also recently taken the U.S. dairy-free crowd by storm with its ice cream line. Look out for its seven flavors – oat, vanilla, chocolate, strawberry, coffee, mint chip, and chocolate chip – that are all vegan, dairy-free, and gluten-free (so basically guilt-free, right?).
However, if the creaminess of oat milk ice cream still isn't measuring up to real dairy, vegans may soon have an option to eat REAL dairy ice cream, made WITHOUT COWS. Yes, you read that right. A Biological Engineer teamed with a Biotechnology student and discovered a way to replicate and create milk proteins using fermentation technology. Their company, Perfect Day, released three ice cream flavors for a limited time back in July: Vanilla Blackberry Toffee, Vanilla Salted Fudge, and Milky Chocolate. The line is currently sold out, but we'll probably hear more from Perfect Day in the future as interest in more sustainable and ethically-sourced products continues to grow.
---
Bubble Fruit is Popping onto Shelves
Del Monte Foods is hoping the growing popularity of bubble tea, a Taiwanese tea-based drink containing chewy tapioca pearls called boba, translates to the snack aisle. Bubble Fruit, their newest product, doesn't look too different from a traditional fruit cup, but it contains popping boba with fruit juice inside that release a burst of flavor. It comes in three fruity flavor combinations: strawberry lemonade, sour apple watermelon, and pear berry pomegranate.
Del Monte hopes this new product will be an exciting new way for kids to enjoy fruit, while also being a very healthy option – each cup contains a full serving of fruit and is free of any artificial colors or sweeteners. Bubble Fruit is not Del Monte's first innovative fruit cup to hit the snack aisle; other recent products include its Fruit and Oat line, and Chia and Fruit Crunch Parfaits.
---
Mustard-Flavored Ice Cream? Musta-Heard You Wrong
We are in the midst of a flavor combination revolution right now, with unlikely pairings making their way to market by the basketful. Inevitably, this will lead to some combinations that turn the heads of even the most taste-adventurous among us. One of these is mustard ice cream, a flavor + food type pairing that is unsurprisingly raising eyebrows. Perhaps more surprising is that not one, but two historic hot dog-adjacent brands, French's Mustard and Oscar Mayer, are both giving this combo a go.
French's, in partnership with Coolhaus Ice Cream, offered their Mustard Ice Cream gratis to hopeful NYC residents back in August. One early adopter was quick to note that the flavor is "a bit more subtle than the combination warns," and that they are ready for another version containing "even more emphasis on the mustard flavor." Another brave soul remarked on their initial skepticism at such a pairing, but ultimately found themselves "pleasantly surprised" at the flavor of the ice cream, which came paired with a pretzel cookie.
Oscar Mayer, for its part, has taken the idea a step further, and is offering an Ice Dog Sandwich, also at select times and locations. It contains candied hot dog bits (yum?), hot dog sweet cream, and spicy Dijon gelato, all wrapped in a cookie bun. This Renaissance food debuted on National Ice Cream Sandwich Day of this year, with the brand's iconic Wienermobile delivering the sandwich to curious consumers around NYC. The news of its release set one comments section ablaze. One commenter registered their ambivalence with, "I am horrified, yet curious," while another homed in on the candied hot dog bits, arguing that they were "potentially a salty-sweet delight". Others were not so open-minded, with one of the more popular comments referring to the mash-up as a "hideous abomination".
It remains to be seen whether either of these dubious innovations will find their way to store shelves near you, so for now we'll leave you with some age-old wisdom: Don't knock it till you've tried it.
---
Guilt-free Goodies
If you are anything like us, you want all of the sweet treats with none of the guilt – and thankfully modern food suppliers are jumping on this rising trend in order to meet demands of healthy eaters everywhere. The non-dairy movement is now well underway in supermarkets' freezer aisles with Unilever launching their first plant-based ice-cream treat. "We're thrilled to bring our next-level chocolate to the vegan and dairy-free market," said Leslie Miller, marketing director of ice cream for Unilever. "This is our first launch in plant-based indulgence, and we can't wait to share with Magnum ice cream fans." These non-dairy ice-cream bars are available in almond and classic options, and feature a vanilla-flavored base made with coconut oil and pea protein, enclosed in non-dairy Belgian chocolate.
If you are looking to make your own plant-based baked goods – try out another food trend that has got us preheating our ovens – Avolov Avocado Powder is making waves as a healthy addition to smoothies, toast, guacamole – and COOKIES! Use their avocado powder in your favorite cookie recipe to add extra moisture and healthy fats to your next batch of homemade treats!
---
Two Sweet New Products to Caramel(t) your Heart this Fall
Move over chocolate sauce, there's a new Hershey cannister in town and her name is Caramel whipped topping! Top off your coffee, ice-cream, or apple pie with this seasonal addition to Hershey's confectionary portfolio. Online user, @the.sweet.foodie was not disappointed upon first trying this product – "the caramel is strong and gives almost butterscotch-y vibes. I tried it by itself, but I think it would be great with hot cocoa or coffee/cappuccino." Sounds like a winning addition to our next coffee break. But if your caramel craving is still not satisfied…
You might be in the market for this newest ice cream flavor from Blue Bell Ice-cream, Salted Caramel Cookie! This salty/sweet combination was released just in time for the fall this year and the reviews have been extremely positive – especially among those who are eagerly awaiting the seasonal return of Peppermint Bark. We think Salted Caramel Cookie might just be the perfect pairing with your next batch of baked goods… Extra points if you top the whole situation off with some whipped caramel topping!
---
Content generated by monitoring and mining online social media channels for unsolicited consumer-generated discussions of categories, brands, and flavors. It's purpose – to keep Givaudan and its partner clients on the forefront of emerging marketplace trends.